Sand blast work shop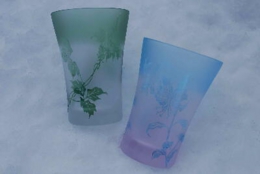 You can make a nice glass in about two hours.
And you can choose a glass in three size.
(One glass \3,500~\5,000)
(Photo: Beer glass cost \4,000~\5,000)
We can accept from 1 to 20 persons.
And children under 9 years old must be accompanied by a parent.
Due to the use of a glass cutter.
Also please bring your own glasses if needed.
Class application period 9:00 ~ 15:00
You can take your glass home the same day.